New month again and new topic. I am excited to see the new topic for this week. And after seeing it, water my mouth because I so love foods. They are my best friends inside the kitchen arena.lol With the topic food to die for, here is my pick: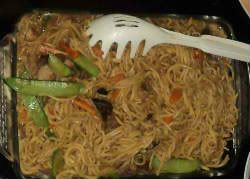 This is the famous pancit canton. My all time favorite food and the food to die for. Who can resist not to give in? My friend used to described me as pancit queen.lol Every time we go out and eat outside, this food will always on the table and of course with loaf bread on the side.wink! Waters my mouth now, nyay! By the way, our dinner today includes this food. And there is leftover, I might have midnight snack eating this pancit canton.shhhh
Want to join and enjoy the fun when girls talk? Click the badge above.