Browsing Category: "Blessings"
Finally, I bought some kitchen wares that I have planned to buy months ago.  I am a bit blessed the past weeks that gives me the money to buy the kitchen wares that I wanted.  Though it is not that expensive but the thought of buying the things that I wanted makes me happy.  I can now say that I have seen the fruit of my labor in the blogosphere.  I am slowly buying things that I am longing to buy months ago.  I am an addict for kitchen wares, the things that I wanted to put in our kitchen.
I love to see the fruits of my labor in our kitchen.  Every time I go to the kitchen it makes me smile and happy seeing it.  I pray that I will be able to buy other kitchen wares of my dreams in the future.  And I also  pray more for blessings in here for me to help my family in financial matters.  Thank you Lord so much for these blessings!
[ Tagged In ] kitchen wares


Last two days ago my friend gave birth to a bouncy little girl.  I can't believe that she is a mother now.  I am so happy for her because she is now a fulfilled woman.  I remember last year, she was worried after months of getting married because she is not pregnant yet.  It is so funny because she is really in a hurry to become a mom.  She prayed a lot and wishing that God would give her the gift of having a baby.  It was an answered prayer because now she is now a mother.
My friend Ada and I visited her today.  I can see it in her eyes that she is so happy carrying her little angel.  A girl, a lady, a woman and now a mother, all rolled into one.  Congratulations to you and I am happy for you.  Welcome to the world baby Ma. Antonette Rose. 🙂
Because my mind is fully occupied of many things I go out of the house and locked the door without the key.  After slamming the door to locked it, I realized I forgot my umbrella.  I hurriedly open my bag and look for the key.  When I did not see the key inside my bag,  I asked myself of where did I put the key.  I remember that I put the key on the table. Arrghs, I am so old to forget things.  I want to slap my face because of what happened.
My plans on that day was canceled because I cannot go without the key.  We only have one key to our main door.  My father will surely mad at me because I forgot to bring the key.  I am waiting for my brother to be back home from a friend's house to help me.  In times like this, I always said I am blessed to have brothers.  Luckily my younger brother arrived at around three in the afternoon.  I feel relieved after I saw my brother coming.  I told him what had happened and asked to do something to open the house for us to get the key to open the door.  Below are some pictures of what my younger brother did.  Funny is I bring the camera but forgot the key.lol
Step one..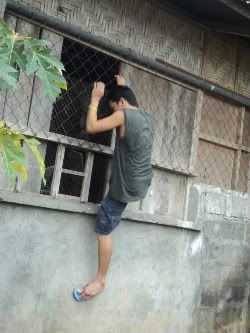 Step two…