Browsing Category: "Fashion/Dresses"
The brother is getting married soon.  He asked me of where to rent a wedding gown for his bride.  I plan to look for a wedding gown or full wedding entourage in boutiques and dress shops but don't have time yet.  I already asked the brother of his budget so I know where to go and what to pick, also asked him of their wedding motif.  The sister's bride suggested to just buy a made to order wedding gown, but I think it will cost them a bit.  They are on a tight budget and buying new wedding gown is not a good idea.
I wanted to help so I called a friend of mine if we can borrow her wedding gown.  The wedding gown that my older sister borrowed on her wedding day.  I am so happy that she said yes.  I told the brother right after my friend responded to me.  I told the brother that the wedding gown is the one worn by the sister on her wedding day.  So, they will be wearing the same wedding gown.  My older sister is found with my suggestion too.  Fortunately, they have the same body built.  We just have to bring it to the laundry shop to have to dry clean.  I will still look for gowns in boutiques and dress shops for the bride's maid, maid of honor, groom's men and groom.  Hopefully, all will get ready for the brother and sister-in-law's wedding.
My sister is two months pregnant.  Her baby bumps is showing at two months.  She can't wear pants and t-shirts anymore.  She thought of buying new maternity dress but I told her to just used the old maternity clothes she has so she can save money for her due.  It has been three years since she wore those maternity clothes and we have to dig on those clothes in the boxes.  We do not know yet if it looks good and can be use in her workplace.  The style may not as modern compared today but surely it will still look good on her.
Next week is our schedule of digging the old maternity clothes because the sister is still busy with her paper works at school.  She has no time yet to go through the boxes and dig the old clothes.  Meanwhile, she is borrowing some of my leggings and tops every time she go out.  Good thing I am plus size because she can wear my clothes.haha!  Hopefully the old maternity clothes still in good condition and the color is not fade so we do not have to shop for new maternity clothes. If not then we will go shopping and it would surely so tiring knowing how picky my sister is.  Good luck to me!
I first saw the t-shirt wore by my favorite female local celebrity.  The tiny heart design on the t-shirt captured my eyes.  And I told myself I want to have this in my closet asap.  The question is, where can I buy? And what brand is this?  Yes, I am so desperate looking for this particular t-shirt.  My desperation was doubled when I saw the SIL have the t-shirt the other day.  It was a late Christmas gift given to her by her friend.  Back in my mind, I want to tell the SIL can I have it? haha!  But instead I told her to ask her friend, where did she buy it.
Until now, I still have not found the store where this t-shirt displayed.  The SIL always forgot to ask her friend too.  Arghs!  Yesterday, I went to the city with my father.  I told the father if we finished early with his doctor's appointment I will go to the malls because I have something to buy.  Unfortunately, the doctor arrived very late.  After the doctor's appointment we went home right away.  Yes, I am sad but I will not stop looking and I promised I will look for you now matter how long it may take.  This is how desperate I am.
Last December 30, 2o15 was the Grand Alumni Homecoming in high school.  The theme is Hollywood inspired and formal wear.  And if you want to win best in formal and costume, exert an effort of your attire.  Winning is not in my vocabulary, I just want to attend the alumni homecoming to see my high school friends and classmates.  It would be great seeing them after 18 years.  Oh yeah, 18 years has passed and it would be nice to see them again.
My mind is fixed to wear just t-shirt and pant because I do not have nice dress in my closet.  But my sister insisted to dig more in my closet and find a nice dress.  I found one she likes but I do not like.  I made up my mind to wear t-shirts and pants when I saw the blue dress in my niece's closet.  I fitted it and I like it.  I asked the niece if she could lend it to me and I am glad she said yes.  I was able to attend the Grand Alumni Homecoming wearing the dress of my niece.  Made me realized I am not that big, or is it just the niece's dress is a big big.LOL!  Whatever it is I like how I look at the homecoming.  Thank you niece very much.
P.S. can I have the dress for myself?? Because I really like it. *wink
I have mentioned in my other blogs that my nieces will be one of the princesses on the culmination day of the Flores De Mayo.  My sister and I wants them to joined so they can fulfill our childhood dreams.  We haven't given the chance to do this when we were younger for some reason.  Our dreams will be passes to our nieces and they will making it come true.  Thanks to them.  Anyways, since they will be wearing gowns on the culmination day, the sister and I agreed that we will rent gowns.  Renting gowns is cheaper, plus we can select different kinds of gowns.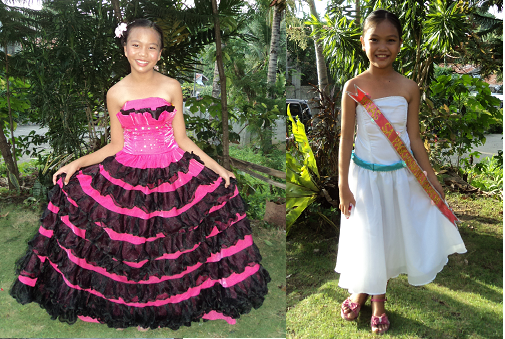 When we went to the shop, I tried to suggest nice gowns to pick, but they insisted that they will choose the one they like.  Well, they are the one who will wear it so I let them pick the gown they like.  The 11 years old niece pick the ballgown type of gown and the 10 years old niece prefers to wear the simple but looking elegant gown.  She feels like a grown up lady wearing the white gown.  Gosh, they really grown up kids because they already know what they like and want.  Well, their taste isn't bad at all.  I also like the gowns they picked.  See the image I shared.  What do you think of their choices?