Browsing Category: "Environment/Nature"
When we are cleaning our home, we use disinfectants, detergents and other chemicals for cleaning. We sometimes prefer to buy the one that is not expensive especially if we are on a tight budget. To some, buying cheap products is for practical reason. Partly it is right because we can save some from buying cheap products. However, we are not aware that some products are not good for our health and skin because of the chemical reaction. We put our health at stake which is not good. That is why we have to be aware of the products that we are using. We should not think of out wallet/pocket alone, also we have to make sure the products that we are using are friendly to our health and to the environment. Let's go green and protect our health and environment by using green cleaning products. These products are friendly to our health and to our environment. Let us think of our health because health is wealth.
Amazing how business houses of all types and sizes can switch venue from a brick and mortar location to a much wider virtual world that easy these days. Or is it just me who has only known of flower and have less heard of herb industry budding on the internet now too? But leave it…
People have varied reasons why they chose to do the things they do. Just like pro-environmentalists grow green plants, make a decent living out of it while helping address the environmental issues we are seriously experiencing these days.
The Growers Exchange is committed in providing top quality plants and garden-related products since 1985. Not everyone has what it takes to grow organic crops and other types of plant especially growers they call who does not have a "green thumb" like me however, that shouldn't be an issue with Growers Exchange because they also furnish gardening advice and fundamental rules that are convenient to follow in growing plants.
Additionally, many virtual communities have also established networks that provide helpful tips for beginners, reviews of gardening tools and exchange of useful information about growing plants. Some of these communities have actually become a venue where plant enthusiasts meet and trade plant growing secrets.
The earth hour is one of the largest event in history.  The whole world will is encourage to participate to show they still care for the environment.  This is one way of spreading the love and care for the world.  And also, this is in relation for the changes we have experience in our climate today.  We do feel the climate change right?  And we have to do something to at least save the world that God has given to us.  Earth hour is turning off the lights for an hour.  This is done to raise the people's awareness about climate change.
The earth hour will take place on March 31, 2012.  This is to save the planet we live in and so everyone is encourage to participate.  It is best to know that people do care for the earth.  We cannot do something alone.  We can achieve great things by doing it together.  Who wants to live in a very healthy plant? All of us, right?  So, do participate this world event for this is for the goodness of the planet and all the creatures living in it.
I have heard about this earth day but haven't participate yet.  This year I will surely participate together with my friends.  Let us make changes now before its too late.  Let's go and participate together.
A family friend just bought their new house three months ago.  We we are invited by them many times to visit them but did not able to visit them for some reason.  Yesterday, we plan to go to the park and since their house is near we decided to drop by before going to park.  It was a surprised  visit for them.  Their house is beautiful and the place is quiet because it is closer to beach.  I was roaming outside when I saw some interesting spot to take a photo.  Below are the photos I took outside their house yesterday: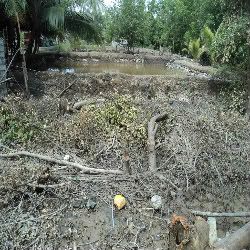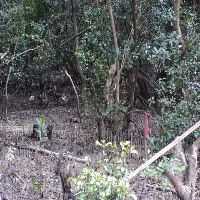 I then realized that the place where their house is situated was part of the beach.  It was a former sanctuary of sea creatures called mangroves.  I felt sad for the sea creatures living there.  It is like they were ousted in their own home.  Mangroves is their home and it is gone now because humans are building their houses.  I can say people has nowhere to go that is why taking the area which is not for them.  I wish that the city will sees this and will realized that it is not a safe place to build a house because it is part of the beach and the soil is not fixed.  Might put their lives in danger if natures attacks.  I hope and pray not.
I am amazed by those individual who loves underwater adventure.  I am so envious that is why I promised to try scuba diving for once.  It would be a great experience for me and so I have to prepare my diving gear so that when that time comes, I am ready to go underwater.  Because of this, I will go to goggle sale to find an awesome goggle that I could wear on that day.  Wearing goggle will make me appreciate more the beauty under the water.